All you need to know
about app development
App development services for better branding, customer service, and customer loyalty are the core of XYZ Ltd. This detailed insight will also discuss the range of mobile applications trending in the USA. So stay tuned and read further for extensive know-how.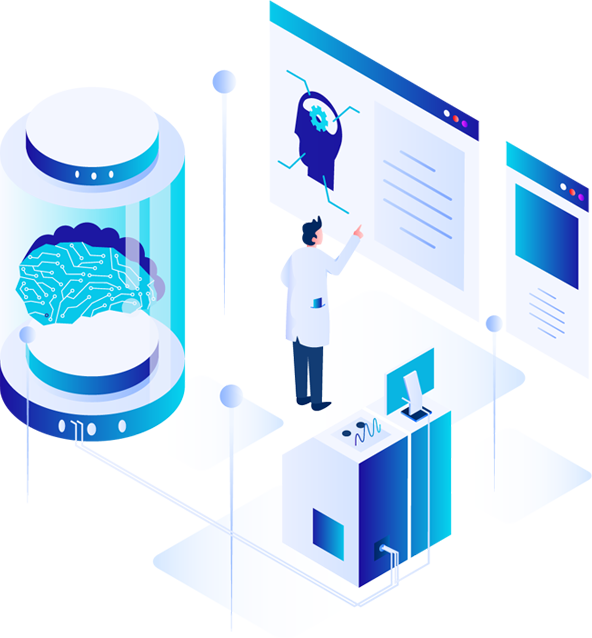 What Is App Development?
Did you know? There are 2.87 million apps available for download on Google PlayStore and 1.96 million apps on Apple Store.
This massive number is proof of the extent to which you need to work on proper app development. The main aim of any application is that :
It should be downloaded by people
People should use the application
But, both of these targets are reached only when your app is able to distinguish itself against millions of other competitors. For this purpose, multiple startups, SMBs, or enterprises avail the services of the best app development companies.
In simple words, app development is the process of creating an application to be accessible on mobile phones, tablets, or other smart devices. One needs to know, that although the largest percentage of downloaded apps is through mobile, there is yet another platform for apps, known as web apps or desktop apps.
Considering the presence of varied platforms for the app launch, companies today emphasize the need for cross-platform development. This is a smart cost-effective app development technique. Over here, a single unique code is generated for releasing the app on all the three mediums:
Why Is App Development Needed?
Worldwide the number of mobile users is estimated to grow to 7.49 billion by the end of the year 2025. With this increase in the number of mobile phone users, there is an expected parallel increase in the number of mobile app users.
After all, mobile applications are the easiest and fastest way for customers to stay connected to their favorite brands. From the business point of view, mobile or even web applications are the primarily prevalent means of reaching the audience and staying connected on a real-time basis. These are the prime reasons that push every startup or even an established brand needs to get an app developed for itself.
A quick insight into the reasons that fuel the need
for app development for all sorts of businesses
Accessibility from multiple platforms
Mobile or web applications improve the potential of the brands to reach a massive segment of audience in a limited time. With the increase in the number of mobile users, access to mobile applications has also surpassed the estimated limit. Consumers and sellers feel well connected on this digital platform.
Wider reach
By the use of traditional marketing and advertising medium, the brands are able to reach only a specific segment of the audience. But with mobile or web applications, the brands can easily reach millions of people around the globe.
Better accessibility
The audience is better able to access the brand features, offerings, news, and information when they download its application. Also, the people, have quick access to any news flash on offers or products added by the brand. In the case of any customer query, the response time also gets minimized.
Boosts brand loyalty
Downloading the app and using it on a frequent basis is the most appropriate sign of brand loyalty. Only individuals who are interested in your brand or products will spare their precious time to download and access the app features. The more they explore more is their engagement history with the brand.
Boosts sales
With the overall increase in efficiency and effectiveness, the sales of the brand also increase. Consumers nowadays prefer online shopping for their dresses, daily utility items, furniture, electronics and so much more. Mobile applications have made this preference easy to execute. Also, the highly technical apps make use of upcoming trends like VR and AR to give real-life shopping experiences that further boost sales.
How Is Mobile App Development Done?
Irrespective of the size of the app development project or brand age, the app development process needs to cover a few basic steps to get its full form. Let's begin.
1. Understand the project requirement
As an initial step the app development agency gets the basic details from their prospective client. These details are answers to the questions like:
What is the purpose of app development?
What is the budget for app development?
What is the timeline?
2. Requirement analysis and accurate cost estimation
On getting an understanding of the app development project from the client's end, the agency then discusses the same with its team. Once, there is an understanding of what all efforts are required to process the project, what time is required, and the scope of the budget, the next step is the NDA.
3. Signing of NDA
The signing of an NDA or non-disclosure agreement ensures that the ideas of the client are safe with the agency, and the sole purpose of the brand's idea is to curate an application. Some of the essentials of the NDA are the mention of project deliverables, the milestones of the project, clauses, and references or annexures.
4. Finalizing the wireframe
The wireframe is needed to ensure that the idea generation, execution, and actual output are the same. In the app wireframe, the series of steps behind the app development, the features to be incorporated, the design, layout, etc are mentioned.
5. UI/UX design
To ensure that the app design is user-friendly, the inputs related to the color, fonts, and preferred app design are taken from the client.
6. Mobile app development in action
After the complete arrangement of the resources for app development, the actual app development process comes into action. This step takes place, in three subparts:
Front end app development
Defining backend development
API integration
7. Quality test
Once the app is developed, it is put through a quality check, to ensure it is bug-free. The two types of tests- functional and non-functional tests are conducted to check if the app is working flawlessly or not.
8. Application launch
For the launch of the application, the company needs to submit the given details to the platform:
Category
Keywords
Description
Launch icon
Your app's title
Log in information
App Store screenshots
9. Post-launch support
In the after-launch service program, the app development agency provides post-launch support to handle queries and suggestions from the app users.
What Are App Development
Services?
From conceptualization to application development, the plethora of app development services is massive.
Brands can choose the set of services based on their requirements. In general, the categories of app development services are:
iPhone app development
Ipad app development
Android app development
iPhone app development
Ipad app development
Android app development
What Are The General App Categories?
Lifestyle Mobile Apps:
Lifestyle mobile applications are the ones that were and are being created to make our routine life easier. There are multiple aspects of life like health, entertainment, food, shopping, socializing, etc. The technology understands this 360-degree need of life and hence has come up with apps specific to each aspect of life. Some of the most popular categories of lifestyle applications are:
Fitness- Strava, MyFitnessPal
Dating- Tinder, Bumble
Food – Seamless, Grubhub
Music – Spotify, YouTube music
Travel – Tripadvisor, Airbnb
Social Media Mobile Apps
Irrespective of the fact the human age today has adopted a digital lifestyle, socializing is an impeccable aspect. If not in person, people prefer socializing in the virtual world. The use of social media applications thus allows its users to stay connected, engaged, and updated about/with others.
Example: Facebook, Twitter, Instagram, etc
Utility Mobile Apps
Utility apps are the most often used mobile applications. We are so accustomed to using these applications, in our routine life, that we hardly categorize them as mobile applications. The most common utility apps come preinstalled on mobile phones.
Example: Reminders, Calculator, Flashlight, Weather
Utility Mobile Apps
Games and entertainment apps are the most popular app categories. The popular applications of this category are the ones that are frequently used and for a longer duration. Some are paid games while others are available free of cost.
Example: Angry Birds, Clash of Clans, Subway Surfer
Productivity Mobile Apps
As the name suggests, productivity apps are the ones that help the user in completing their task with ease. Professionals often use these apps to streamline their routine tasks and complete them in less time. Google and Apple have some of the most popular productivity apps.
Example: Docs, Sheets, Wallet/Pay
News/Information Outlets Mobile Apps
These are the News and information apps for broadcasting and sharing the news with the public at large. Today, almost every TV News channel has its own mobile application. All this is to ensure that each news app is able to provide a piece of maximum real-time news to its visitors. Apart from TV News channels, there are other apps only news platforms like the one mentioned below.
Example: Buzzfeed, Smart news, Google News & Weather
W

hat Are The Type Of Apps Based On Technology?

There are three basic types of mobile apps if we categorize them by the technology used to code them:
Native apps
Native apps are apps built using Java, Swift, and Objective-C. They work on one single operating system.
They deliver a superb performance experience to their users. They are fast and have good UI.
Native apps are expensive to build and maintain. Also, it's a time-consuming app development process.
Web apps
Web apps are responsive and browser-dependent websites. They are usually built using HTML5.
They are slow and have reduced intuitiveness.
They are very cheap to curate and also take much less time.
Few testing parameters for web app quality check are UI testing, detecting connectivity issues, checking battery usage, and tracking concerns caused by advertisements
Hybrid apps
Hybrid apps are those that are created to function on more than one operating system or platform.
They are built using HTML5 and languages like Java, Swift, and Objective-C.
Their performance speed is dependent on their user interface.
Hybrid apps are not much expensive to build.
Few testing parameters for hybrid apps are screen, compatibility, network, and gesture testing, etc
Example: Yelp and Instagram
W

hat Are The Common Type Of Mobile Apps Used In The U.S.A?
E

ducational apps
ABCmouse
---
ABCmouse is an accredited learning program for kids aged 2-8 years. The app content is curated by the education experts. It plethora of 10000+ learning activities is used across 70,000 classrooms in the USA. It enhances the mathematical and analytical skills of kids.
Elevate
---
A brain-training application for improving the speaking ability, memory, and speed thinking ability of kids. It comes with a 7-day free trial version, 40+ brain training games, performance tracking, and personalized workouts. It helps you overcome common writing mistakes.
Photomath
---
Photomath is the most popular app dedicated to improving the maths skills of an individual. It's free to use. Its key features include an expansive explanation of mathematical problems, interactive topics on algebra, calculus, geometry, trigonometry, and all other sections of maths.
L

ifestyle apps
Life360: Find Family & Friends
---
A lifestyle app for an entire family. It ensures that the family remains safe and connected always. Integrated with the busy lifestyle of today, the app comes equipped with advanced features like location sharing, pace alert, live agents, emergency assistance, etc.
Pinterest
---
Pinterest is an image-sharing social media application. It is also compatible with animated GIFs and videos. People prefer sharing their ideas and interests in an acceptable and easy-to-pin format here. It has a list of shopping catalogs, life hacks, novel concepts, etc.
Amazon Alexa
---
Amazon Alexa app is a must-try application for those who have Alexa-enabled devices. The app has only been designed for Apple users. It helps control Alexa music, set reminders, etc. This highly customizable app very soon adjusts itself to the vocabulary, personal preference, and voice of its frequent user.
S

ocial media apps
Instagram
---
Instagram is a photo and video sharing application. It comes with multiple free and chargeable filters and editing options for photos and videos. One can make use of hashtags while describing the posted media. It is often used as a popular marketing tool by marketers too.
Facebook
---
Facebook is the most popular social media application for decades. It allows people to search for other people, places, groups, events, and more by the use of a few words in a search engine. It allows refining the search results based on its detailed filter list. Facebook connects people across the globe.
Twitter
---
Twitter is a social media application that allows people to participate, speak and listen to lived audio conversations. It broadcasts the information shared by people from any remote area and on any remote topic. Individuals can retweet the posts liked by them and share their opinions too.
P

roductivity apps
Gmail
---
Gmail app is the most dominant email application. It can easily be downloaded on Android phones or computers. The Gmail application allows its users to access their email, block spam emails, download attachments, etc at any time from anywhere. It also enables high-quality Google meets.
Google Drive
---
Google Drive is part of Google. It allows its users to save, share, and download the data. The data is available in the format of documents, pictures, or videos. The Google Drive links are easily shareable and come with complete or restricted access to its viewers, editors, or commentators.
Microsoft Outlook
---
Microsoft Outlook app enhances the productivity of its users by making it easy for individual to manage their emails and calendars. The pinned dates on the calendar and emails are easily shareable. An effective digital tool for proper connection and organizing of schedules.
E

ntertainment apps
Disney+
---
A video streaming application for round-the-clock entertainment. It has movies, web series, live videos, sports, news, and so many more categories to explore. The content can easily be categorized as per the age and gender or other preferences of the user.
Tubi
---
One needs no subscription to enjoy the massive amount of entertainment on the Tubi application. It is easily available for the users of Android, iOS, Roku, Amazon Fire TV, Apple TV, Xbox, Samsung Smart TVs, Xfinity X1, PlayStation, Sony Smart TVs, and the web.
Pluto Tv
---
Pluto Tv is the most sought-after application for enjoying multiple channels and movies for free. It has a massive library for movies on demand, TV shows, and movie channels. There are hundreds of categories for movies and TV channels in its closet.
G

ame apps
Apex Legends Mobile
---
Apex Legends mobile application allows multiple players to play at once the royal battle. It is the strategic gameplay of iconic legends. There are battles, competitions, strategic choices, and so much more to experience.
Subway Surfers
---
A highly engaging gaming application for individuals of almost all ages. It pushes the adrenaline flow of its players, enough to make them jump from their seats. Its HD colorful graphics are its key visual aspect.
Figurine Art
---
Figurine Art allows its users to paint and assemble their own figurines. The unlocking of new levels allows the player to upgrade his skills with better tools. A must-try application for creative minds who like to pose their figurines their way.